We are bringing the
Fuel for the Future
About
Parox Energy OÜ is a newly established enterprise with aim to achieve hydrogen availability and increase the renewable energy resource usage in Estonia
Parox Energy OÜ aims to create a positive environmental impact with the hydrogen production projects, which is why we aim to produce hydrogen from renewable energy sources.
Parox Energy OÜ has joined the H2NODES project to achieve its hydrogen production goals. H2NODES is a project aiming to establish hydrogen fuel production and hydrogen refuelling stations along the ca 3200 km North Sea – Baltic TEN-T core network corridor. H2NODES project received support from the European Union CEF Transport Program in 2014. The hydrogen transport corridor built during the project starts from Arnhem (Netherlands), crosses the mainland via Riga (Latvia) and reaches Pärnu (Estonia). The head coordinator of European Union H2NODES Project is RP SIA Rigas Satiksme and the project will be implemented in Estonia, Latvia and Netherlands.
Three of the partners involved in the project will build hydrogen stations – Pitstop (Netherlands), Rigas Satiksme (Latvia) and Parox Energy OÜ (Estonia)
The shareholders of Parox Energy OÜ are RoxTrade OÜ, Greenor Energy OÜ and Bioforce Infra OÜ.
Parox Energy OÜ is a member of the European Clean Hydrogen Alliance.
Project
H2Nodes
H2Nodes Action looks into planning and realizing a chain of hydrogen refuelling stations (HRS) and boosting demand for fuel cell electric vehicles (FCEV) along the North Sea – Baltic core network corridor.
The focus is on market-sided innovation by real-life deployment and processes to boost market introduction and to ensure a growing demand for hydrogen fuel by engaging organizations and individuals to become users.
The aim of the project is to provide locally produced hydrogen for the real-life tests and to mobilize local and regional actors to engage in building the business case throughout the value chain.
The project is divided into three main activities:
Studies and mapping options on how to produce hydrogen from local sources and preparation for hydrogen tests in real-life.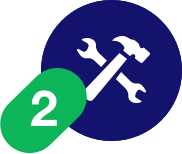 Construction of hydrogen refuelling stations (HRS) to establish the stations in Riga (Latvia), Pärnu (Estonia) and Arnhem (Netherlands) together with local hydrogen production, testing technical solutions and planning of further additional possibilities of hydrogen fuelling.
Testing the solutions to ensure steady and fluent process of refuelling hydrogen buses and hydrogen commercial vehicles.
The result
Further growth of the hydrogen vehicle fleet will be pursued by mobilization of local and regional level, to engage in building the business case throughout the value chain.
The project results will provide a roadmap for Member States on the roll out of HRS infrastructure in other cities and regions. It will include lessons learned on how to establish hydrogen nodes along the Core Network Corridors with integrated planning of regionally produced sustainable hydrogen, and on mobilizing local and regional demand for zero emission FCEVs.
Contact
Drop us a line
If you have any comments, notes or questions dont
hesitate and contact us.